Celebrating Pride Month
June is Pride Month and everyone at The Royal Orthopaedic Hospital (ROH) wants to ensure visitors and staff feel empowered and supported to be whoever they want to be and bring their most authentic selves to work, or when seeking medical treatment.
What is Pride Month?
Pride is not to be confused with LGBT+ history month, which is celebrated in February in the UK - to coincide with celebrations of the abolition of Section 28 in 2003. Section 28 was a law that prohibited the "promotion of homosexuality" and hindered education about homosexuality in schools.
It was introduced by Margaret Thatcher and her Conservative government in 1988 and repealed by Tony Blair's Labour in 2003 (after an earlier, unsuccessful attempt to do so in 2000).

Pride is held in June to mark the anniversary of the Stonewall riots, a series of protests that occurred in New York City after police attempted to raid the Stonewall Inn, a popular gay bar, in the early hours of June 28, 1969. The confrontation sparked a gay rights uprising that grew year on year - including in other American cities and abroad - with each passing anniversary.

ROH has been on a significant journey over the past few years to ensure inclusivity and equality is more important than ever.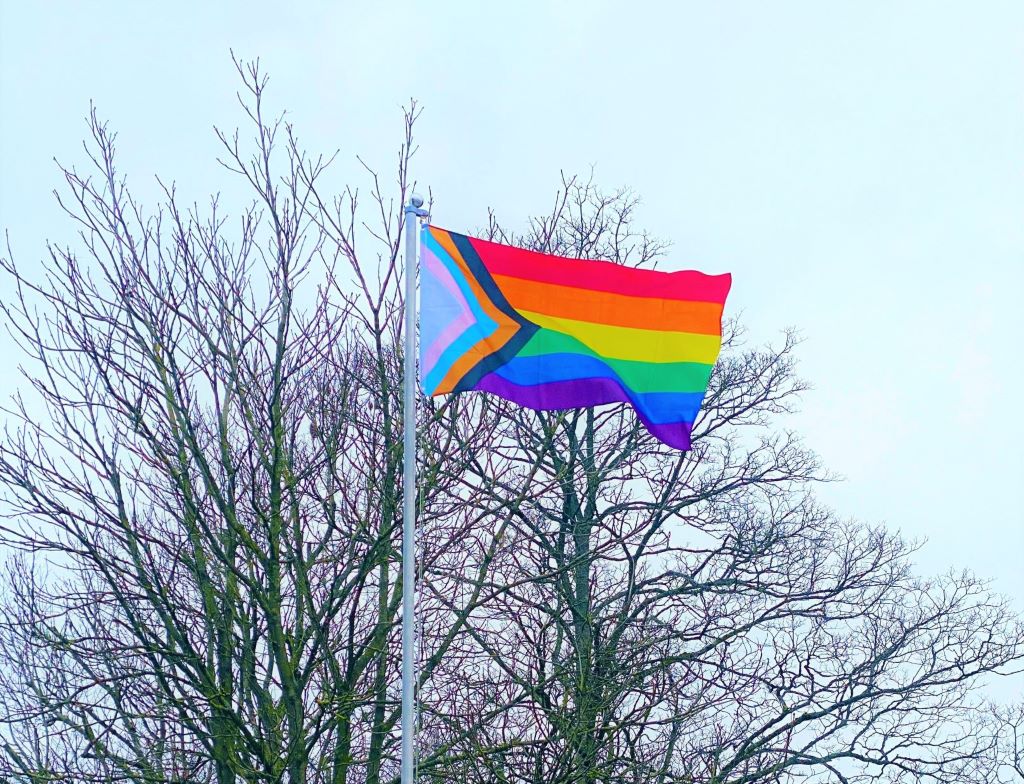 Flying the flag
To mark LGBT+ History Month in February, the Trust proudly unveiled its new LGBT+ flag (above). This updated design, by Portland-based designer Daniel Quasar, adds five arrow-shaped lines to the six-coloured Rainbow Flag, which is widely recognised as the symbol LGBT+ communities. The flag includes black and brown stripes to represent marginalised LGBT+ communities of colour, along with the colours pink, light blue and white, which are used on the Transgender Pride Flag. You can read more about the flag here.
Be Myself
The Be Myself WhatsApp group was started by the Equality & Diversity Network as a means for staff who identify as LGBT+, and allies (those who don't identify as LGBT+), to offer support, advice and conversation to each other. It is an informal chat – those who join can choose to contribute as little or as often as they like. Its purpose is purely to let staff know that support exists. If you would like to join the group, email This email address is being protected from spambots. You need JavaScript enabled to view it.. The Be Myself group is in addition to the Equality & Diversity Network, which supports all staff to feel equal. The network meets regularly – if you would like to join the network, email This email address is being protected from spambots. You need JavaScript enabled to view it.
Birmingham Pride
Plans will soon be underway for ROH's involvement in Birmingham Pride, one of the UK's biggest LGBT+ festivals. Birmingham Pride will take place in the heart of Birmingham's Gay Village Saturday 25 – Sunday 26 September 2021 and will feature music acts, drag and cabaret performances. Similar to 2019, the Trust plans to take part in the annual Pride parade – this year leading it, alongside representatives from other NHS trusts in the Midlands. Please contact This email address is being protected from spambots. You need JavaScript enabled to view it. if you would like to take part or help with planning.
NHS Rainbow Badge
The NHS Rainbow Badge initiative gives healthcare staff a way to show that their place of work offers open, non-judgmental and inclusive care for all who identify as LGBT+ (lesbian, gay, bisexual, transgender; the + simply means inclusive of all identities, regardless of how people define themselves).
A Stonewall survey found that one in seven LGBT+ people have avoided medical treatment for fear of discrimination, and almost one in four have witnessed discriminatory or negative remarks against LGBT+ people by healthcare staff.
If you see someone at ROH wearing a badge (pictured above), please feel free to ask them about it. The badge is a reminder that you can talk to our staff about who you are and how you feel. They will do their best to get support for you if you need it.​ If you are a member of staff, click here to see how you can get your own free badge.
Happy Pride!