ROH staff member featured in photography exhibition for Black History Month
A member of staff at The Royal Orthopaedic Hospital (ROH) is currently one of the subjects of a photography exhibition at a Birmingham gallery.
Support Medical Secretary Lorine Livermore, also known as Jenny, is being featured in the 'Your Hair Is Good Hair' photography exhibition on show at the Birmingham Contemporary Art Gallery (BCAG). The exhibition features people from all walks of life, from Chief Executives to entrepreneurs such as singer and television personality Jamelia.
The exhibition, the work of Sumaya Ali, comprises portraiture style photographs which were conceived from the artist's journey towards accepting and celebrating the natural curl pattern and texture of her hair, while also challenging the media's projection of a singular hair aesthetic. Behind the visuality of the images being presented is a wealth of history that connects hair to race.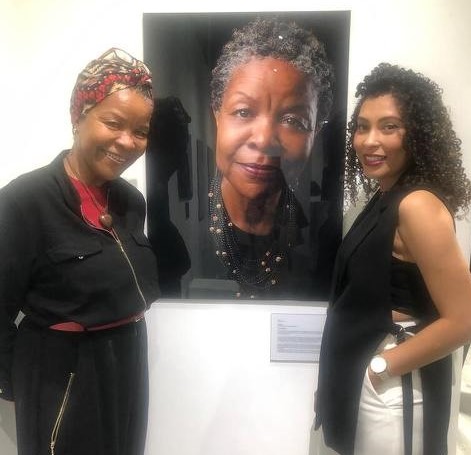 (Above Jenny, left, with photographer Sumaya Ali)
Sumaya Ali is a lawyer and photographer based in the Midlands, UK. Her practice is rooted in exploring social issues, using them as vehicles to incite positive change. Her first exhibition 'On Their Shoulders' (2020) showcased successful individuals of colour in a range of careers and was exhibited at her alma mater, the University of Leicester, School of Law. 'Your Hair Is Good Hair'
is her second exhibition and runs until 3 November 2021. Further details can be found on the
BCAG website
or you can explore the
gallery virtually here:
https://www.sumayaaliphotography.com/your-hair-is-good-hair