Vitabiotics donates over 1000 vitamin supplements to hospital staff
Thank you to Vitabiotics, who have gifted staff at The Royal Orthopaedic Hospital (ROH) with boxes of their popular vitamin D supplements.
ROH's Multi Minority Ethnic Group (MMEG) staff network have worked with Vitabiotics to arrange a donation of 1200 boxes of Ultra Vitamin D 1000 IU for staff. The MMEG provides a space for colleagues to talk about issues important to staff from ethnic minority backgrounds with an aim of creating positive change. Any member of ROH staff is welcome to attend meetings and get involved. If you have any questions, you can email MMEG Chair, Falon Paris-Caines on This email address is being protected from spambots. You need JavaScript enabled to view it.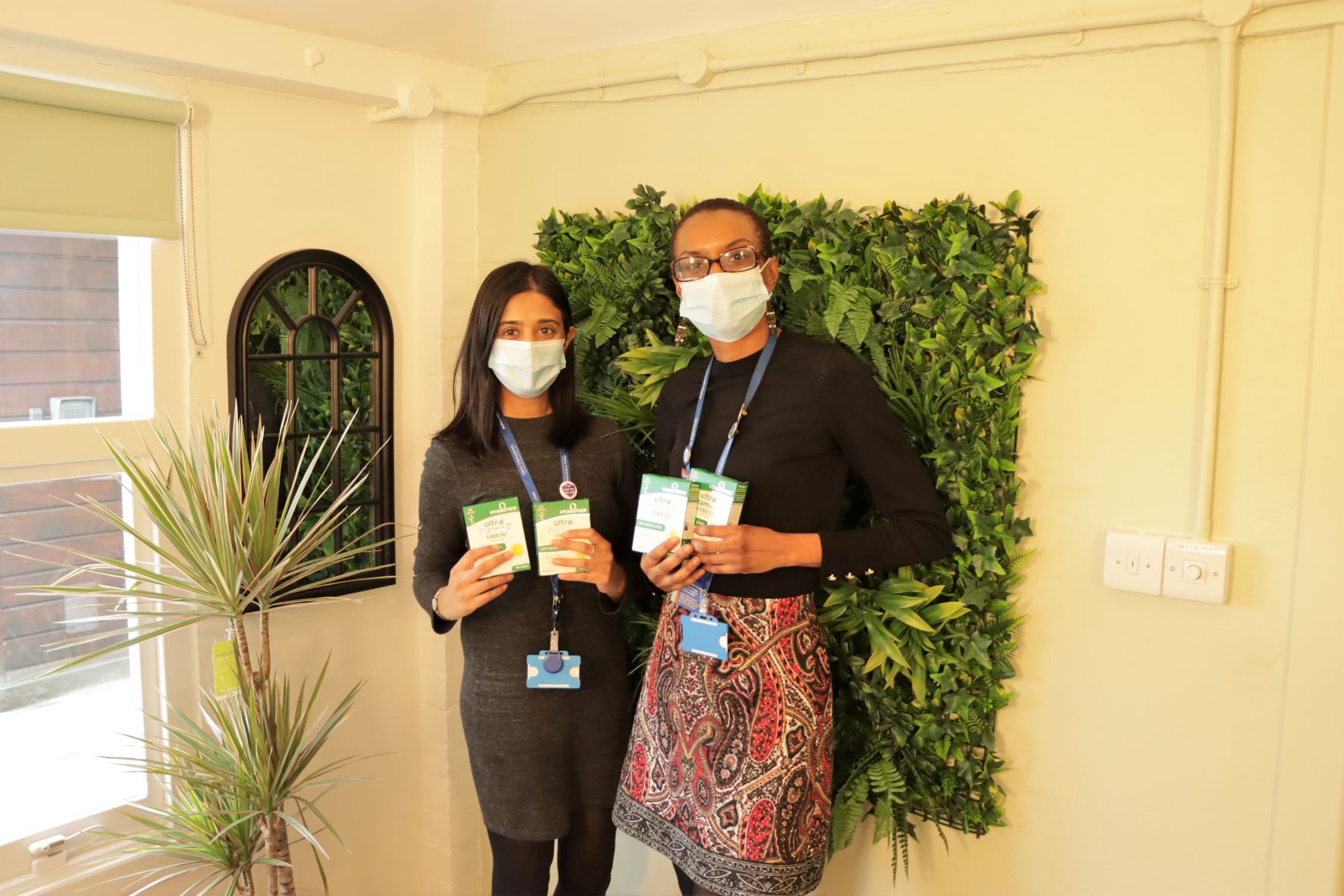 (Above: staff pose with the donations from Vitabiotics)
Staff can collect their free box from the newly furnished Tom's Wellbeing Room located on the balcony opposite the lifts near Café Royale. Staff are able to access this with their ID badge - if you have any issues please visit the Porters Lodge to amend your access.
Vitabiotics have been providing the public with well-researched and highly effective vitamins for over 50 years. They provide various vitamin complexes specifically tailored for women, men, over 50s, teenagers, children and babies. The company, run by Dragon's Den's Tej Lalvani, say their goal is "helping you to be at your best, day-after-day and whatever life throws at you."
About Vitamin D
During the autumn and winter, the sun is not strong enough for the body to make the Vitamin D it needs. As it is difficult for people to get enough Vitamin D from food alone, the Department of Health and Social Care (DHSC) suggest that everyone should consider taking a daily supplement containing vitamin D during the autumn and winter months. There are certain groups that the DHSC recommends take a daily supplement of Vitamin D throughout the year. These include:
People who have dark skin – for example you have an African, African-Caribbean or South Asian background. For this group, the exposure requirements in UK sunlight are more challenging to achieve.
People who are not often outdoors – for example if they are housebound or live in a care home or other institution.
People who cover up most of their skin when outdoors.
You can find out more about Vitamin D and its benefits here.