The Royal Orthopaedic Hospital ranked the most inclusive NHS employer in the UK
The Royal Orthopaedic Hospital NHS Foundation Trust (ROH) has been unveiled as one of the 'most inclusive companies in the UK' for the second year in a row.

The Inclusive Companies Awards is the only awards ceremony that 'rewards organisations for harnessing a truly diverse workforce, thus recognising the significant efforts of organisations nationwide that excel in their commitment to equality and inclusion across all strands of diversity.'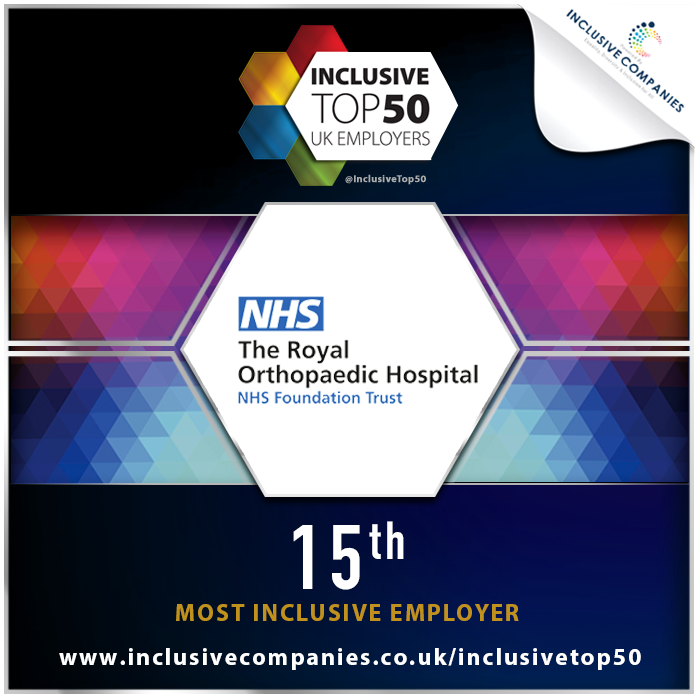 On 1 December, the long-awaited Inclusive Top 50 UK Employers Index for 2021/22 was published. The index showcases the leading organisations working across all aspects of diversity. Now in its sixth year, the list demonstrates UK-based organisations that are at the forefront of promoting inclusion across all protected characteristics.

The awards cover excellence in all areas of diversity including age, disability, gender, sexual orientation, race and religion, as well as highlighting diverse employers and employees across a wide variety of sectors including housing, public, private, charity and education.

Inclusive Companies unveiled its top 50 in a virtual ceremony on Tuesday 1 December, where ROH placed at number 15, an incredible increase of 19 places from 2020! The accreditation comes after significant work by the Trust to increase equality and promote inclusiveness amongst staff over the last year. It's placing also makes the Trust the most inclusive NHS employer in the list.
Chief Executive of ROH, Jo Williams, said: "In the last 18 months, ROH has faced multiple challenges, which have been felt across the country. We maintain support for all groups, particularly women, people living with long-term conditions, persons with disabilities, and people of multi-ethnic groups. We are proud of the significant progress we have made from our ranking at 34 last year."
The Trust is committed to an inclusive workplace and strives to ensure that everyone has a sense of belonging. This includes colleagues, patients, visitors, and partners. Significant progress has been made with forming diverse networks with colleagues across the Trust, who have active involvement in decision-making. To be unveiled as the most inclusive NHS employer in the UK demonstrates the incredible work the networks, and staff from all over the hospital, have contributed to ensure the Trust is an inclusive place for all.