THE ROH SHORTLISTED IN TWO CATEGORIES AT THE 2023 HSJ AWARDS: SETTING THE STANDARD FOR HEALTHCARE EXCELLENCE
The Royal Orthopaedic Hospital is delighted to announce that our entry for Osseointegration Surgery at the ROH has been shortlisted in not one, but two categories at the 2023 HSJ Awards: Acute Sector Innovation of the Year and Military and Civilian Health Partnership Award.
The HSJ awards recognise an outstanding contribution to healthcare.
The Royal Orthopaedic Hospital worked with the MoD to create a safe and effective patient pathway for osseointegration surgery. This enabled military personnel to have complex surgery, followed by an intensive recovery and rehabilitation programme.
As a specialist elective hub, and one of the largest orthopaedic units in Europe, the ROH had the expertise and capability to design the pathway and provide lifechanging surgery. As such, the project was successfully delivered within the agreed budget and timeframe. The treatment that patients have received has had a hugely positive impact on their quality of life.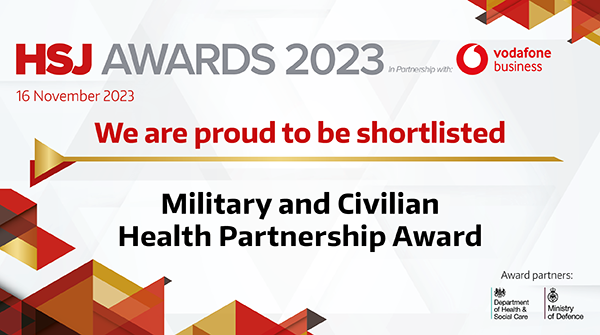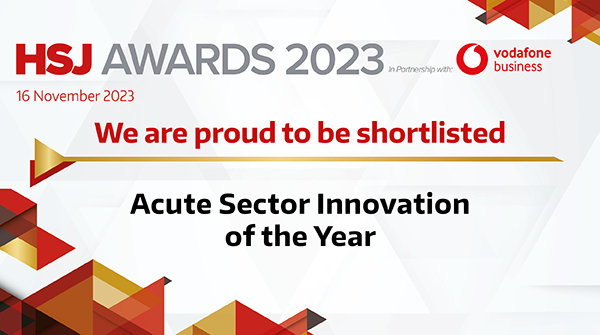 A 'record-breaking' 1456 entries have been received for this year's Awards, with 223 projects and individuals reaching the final shortlist, making it the biggest awards programme in the award's 43-year history. The high volume - and exceptional quality – of applications once again mirrors the impressive levels of innovation and care continually being developed within the UK's healthcare networks.
HSJ editor Alastair McLellan, adds; "It always gives me great pleasure to congratulate our finalists at this stage of the judging process and this year is no exception as we acknowledge The Royal Orthopaedic Hospital for being shortlisted in the two categories: Acute Sector Innovation of the Year and Military and Civilian Health Partnership Award.
"It's been so encouraging to hear that 2023 has been record-breaking in terms of the number of applicants and, as ever, the calibre of entries left our panel of expert judges with some tough decisions to deliberate over.
"However, it's always important to remember that the HSJ Awards are not just a celebration of success stories but also a platform to shape the future of the NHS.
"We can't wait to welcome our finalists to the awards ceremony in November and to recognise and applaud such impressive achievements across the sector – as well as coming together to help mark the 75th birthday of our great NHS."
The winners will be announced during the awards ceremony at Evolution London on November 16th 2023.
Click here to view the full shortlist:  https://awards.hsj.co.uk/shortlist-2023