The Royal Orthopaedic Hospital Launches Many Cultures One ROH Exhibition
The exhibition features 10 members of staff who share details about their heritage and shine a spotlight on the rich mixture of cultures across the Trust.
The Royal Orthopaedic Hospital has launched a new exhibition which celebrates the diversity of cultures at the Trust. 'Many Cultures, One ROH' showcases the Birmingham hospital's rich mix of cultures and the importance of bringing your authentic self to work.
Marie Peplow, Chief Operating Officer and Executive Sponsor of the Multi Minority Ethnic Group (MMEG) staff network, said: "This exhibition brings together a set of portraits of staff from different heritages, each demonstrating what their culture means to them. The exhibition is a real celebration of the richness of diversity that our colleagues bring to the hospital and provides an insightful opportunity for staff and visitors to learn about the significance behind different cultural traditions."
The idea for this exhibition emerged in the MMEG staff network. The aim of the MMEG network is to provide a space for people with minority ethnic heritage to connect, collaborate, tackle issues and support the Trust to be more inclusive.
Falon Paris-Caines, Chair of the MMEG staff network, added: "It has been wonderful to see the transformation of an idea that started at a MMEG staff network meeting into the colourful and impactful Many Cultures, One ROH exhibition. The participants have not only breathed life into this project but exemplify the essence of ROH and the values that the Trust upholds. Their enthusiasm and willingness to share their stories is a celebration of the many different cultures at ROH and across the NHS."
Participants in the exhibition gathered to celebrate the launch of the exhibition with a ribbon cutting ceremony.
Eunice, Healthcare Assistant, is originally from Ghana and explains why she's proud to have been involved in this project: "My Ghanaian heritage has influenced my life in many ways and it has made me who I am today. Our culture and traditions are rich and vibrant – we are taught from an early age about values such as respect, kindness, family and dignity, and we have a strong sense of community. Ghana means 'warrior king' and when I reflect on this meaning, it empowers me as I feel like a warrior queen to overcome challenges in my life.
"I am delighted to be part of this project as it allows me to showcase my heritage and what it means to me, and it gives me a sense of belongingness and connection."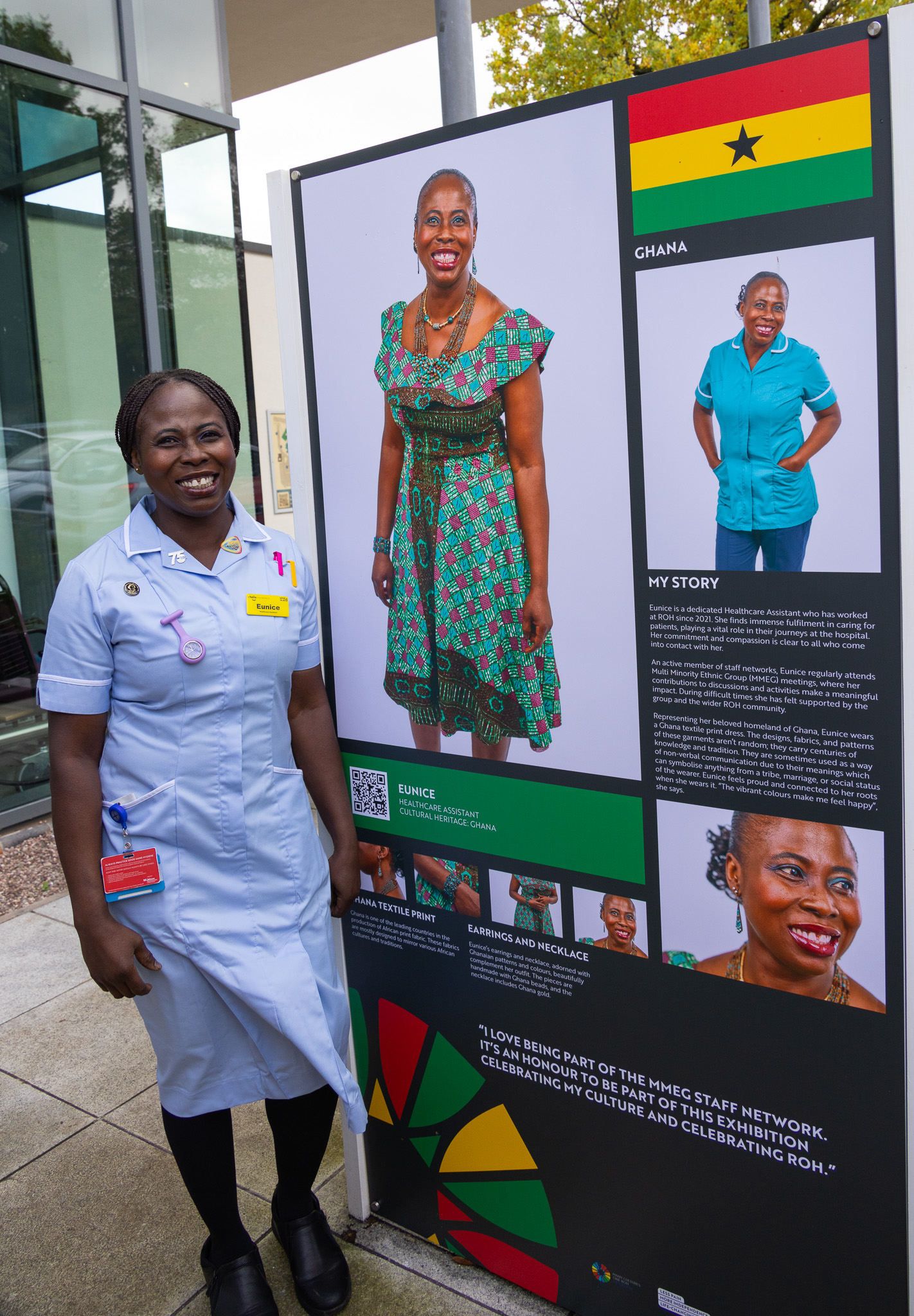 Photo caption: Eunice stands in front of her story 
Marta, Pharmacy Technician, is proud to be Polish and share her heritage as part of this exhibition. She commented: "Poland has a rich history that has shaped a nation of people who value dedication, hard work and truth and I'm proud to be part of a culture that puts education first – many Polish scientists are pioneers and inventors.
"There is a big Polish community thriving in the West Midlands and this exhibition has been a great opportunity to represent this community and proudly display my traditional Polish folklore dress which reflects the colourful culture, traditions and celebrations of our history."
Lucas, Lab Manager and Researcher, is from Brazil and shared why he wanted to be involved in the Many Cultures, One ROH Exhibition: "I feel proud of being Brazilian because we are a very creative and hardworking people who are always ready to face big challenges with a big smile in our faces. I wanted to get involved in this project because I truly believe the multicultural background of ROH staff members is something that greatly contributes to the Trust's success and this project will help to evidence this diversity."
This exhibition is located outside the Main Entrance to the Royal Orthopaedic Hospital next to Outpatients and will be accessible year-round.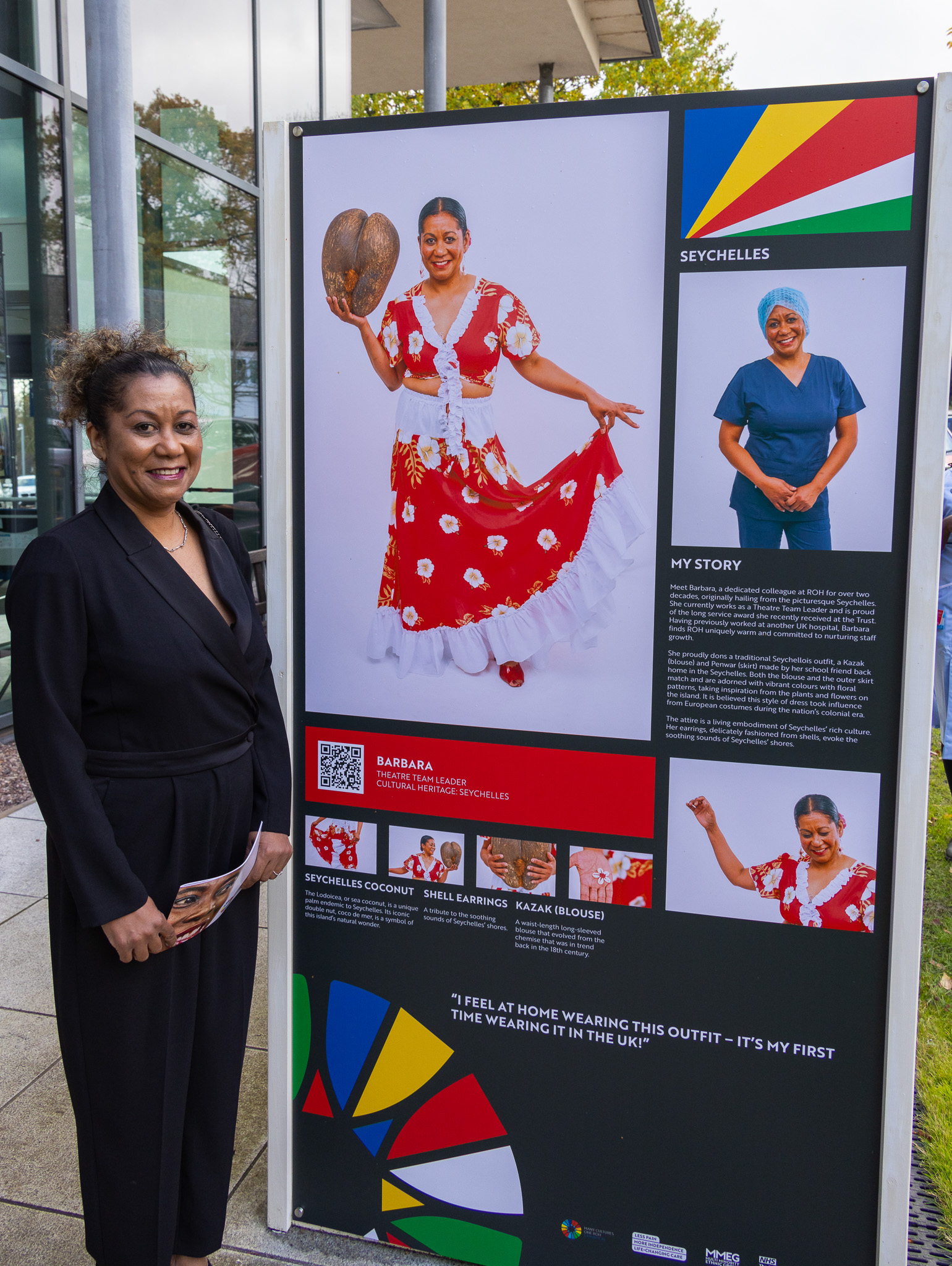 Photo caption: Barbara stands in front of her story
To read more about the exhibition, visit Royal Orthopaedic Hospital - Many Cultures One ROH Exhibition